Universitat Autònoma de Baarcelona
The UAB is a generalist campus-based University, with almost 40,000 students, covering an ample range of disciplines. It holds a leading position in the most prestigious international university rankings and, in recent years, this award has been complemented by the growing impact of the research, the constant improvement of teaching and the ability to attract international talent. Its commitment to internationalisation is reflected in agreements that facilitate exchanges and joint projects for students and researchers. In teaching, these projects include an Erasmus Mundus Joint Master Degree and three Erasmus+ Strategic Partnerships for Higher Education Institutions, together with ERASMUS IPs, Tempus, EduLink, Erasmus Mundus, Comenius, Leonardo da Vinci, and Erasmus Curriculum-Development. In research, it takes part in the following programmes: Horizon 2020 and Integrated Projects, STREPS, Specific support measures, CRAFT, INCO and Marie Curie.
GRIAL

GRIAL is the acronym for the Linguistic Applications Inter-University Research Group (Grup de Recerca Interuniversitari en Aplicacions Lingüístiques). The members of the group belong to four universities.
Our work focuses on the creation of linguistic resources that can be of used in several fields related to applied linguistics such as lexicography, translation or natural language processing. The resources we create  range from the description of linguistic phenomena based on the compilation of empirical data to the creation of applications built for specific purposes.
Hortènsia Curell, PhD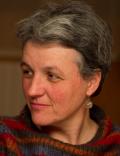 Dr Curell has been a tenured associate professor in the English Department since 1991. She has over 30 years of experience in teaching English (and linguistics) to university students, both at the graduate and undergraduate level. Throughout these years, and as a result of her teaching, she has written a variety of teaching materials aimed specifically for university students. She has supervised (and is supervising) PhD theses in the areas of second language acquisition and contrastive linguistics. She has been the director of two teaching innovation projects aimed at improving, among others, the academic linguistic skills of university students. At present, she is involved, together with some colleagues in her department, in a project aimed specifically at improving students' abilities to read and write academic texts.
Hortènsia Curell on ResearchGate